Navigate through the sections below to discover more about how Surpass can benefit you in every stage of the assessment process.
---
Create
---
Surpass allows you to easily author a wide range of both computer and human-marked question types, and use intuitive item banking software to create static, dynamic, or mixed assessments. The wizard-based authoring tool in Surpass allows for fast and effective item creation, or if you prefer, additional advanced authoring tools are available to give users complete "blank canvas" flexibility over the formatting of question and non-question items. Additionally, tailored workflow management processes ensure that all items go through necessary publishing controls before being included in any assessments.
Question Types and Suitability for Delivery
Paper OMR
Response
Paper Open
Response
Tablet
Computer-based
Testing
Multiple Choice
Multiple Response
Either / Or
Short Answer
Essay
Fill in the Blank
Numerical Entry
Drag and Drop
Extended Matching
Equation Entry
Hotspot
Select from a List
File Attach
Table
Spreadsheet
Diagram Creator
High Fidelity Image Viewer
Advanced Question Types
Voice / Audio Capture
Click here to see the latest question types in more detail
Find out more information about the most suitable assessment delivery methods for your organisation.
When building your assessment, different question types can easily be combined and configured to suit your testing needs. Surpass ensures that all of your item authoring and test creation processes are as efficient as possible. You can:
Instantly import your existing items into Surpass from a QTI file or spreadsheet, saving time and making use of existing resources.
Include a variety of media and supporting resources in all content, such as: images, videos, PDFs and audio, ensuring questions are engaging, practical and accessible by all.
Quickly produce simple tests or use customised rules to create dynamic tests.
Manage the creation process with permission based workflow.
Organise your content with drag and drop folders and custom metadata fields.
Creating Questions
When authoring content for examinations, it is essential that your approach is secure, controlled, consistent and scalable. Having a best practice approach to authoring helps to ensure validity, viability and quality. Surpass supports best practice in assessment design and effortlessly guides your authors through content creation. Workflow management, configurable user roles and secure permission-based access ensures that your content remains protected and is authored according to a globally recognised process. Multilingual content creation is supported, and questions can contain rich media and engaging support materials to ensure the best results from your candidates. Surpass also enables you to create one question which can be delivered through multiple channels such as tablet, PC/Mac and paper, saving authoring time and increasing return on investment. This also lets you easily turn a summative item into a formative item, allowing you to easily gather rich performance-based feedback on each question. Your questions represent one of the single most important investments you will make in your awarding process, so you need to make sure that not only is test creation efficiently managed to reduce exposure and wastage, but also that those questions are used to their highest potential.
Creating Assessments
Question items contained within your item banks can be easily presented as groups of items in the form of examinations or tests; this can be done either statically with fixed forms, or based on rules using dynamic forms. The test creation wizard is an easy-to-use tool which guides you through the process of test assembly, allowing you to preview the available items and select them, or search them using metadata. Once an assessment has been created, this can either be distributed for further proofing, or made available for scheduling during a flexible or fixed period. In addition to having control over when and where tests can be taken, you can specify the duration, security and controls used so you have complete confidence in how the test is being used and by whom.
---
Hear from other test item authors about how the Surpass Platform has helped them create better quality examinations.

---
Deliver
---
Whether you're responsible for high-stakes summative assessment, looking for tools to assist in formative test delivery, or exploring the possibilities of delivering tests in brand new locations, Surpass can meet your requirements.
BTL is trusted as a specialist supplier to professional assessment providers, with a proven track record of supporting and delivering secure summative examinations across the world, reaching into some of the most challenging environments.
Developed to accommodate many different delivery channels in both online and offline modes, Surpass ensures secure assessment delivery across screens (PC, Mac, tablet) and paper.
Find out how other organisations are using the power of Surpass to securely deliver millions of tests worldwide.

Some benefits in delivering assessments through Surpass include:
Prevention of candidates accessing other applications during on-screen exams with 'locked-down' mode.
Built in resilience and mitigation means tests can be delivered even in circumstances where Internet access is slow or unreliable.
Delivering your assessment on desktop, tablet or paper.
Delivering learning or formative tests through easy-access web delivery.
Provide instant feedback to candidates through practice tests.
Delivering tests to across the world using our multilingual delivery engine.
Confidently reach out to candidates anywhere in the world via real-time remote proctoring, or take advantage of the BTL approved Test Centre Network.
Carefully designed invigilation / proctoring tools which manage the exam delivery windows / start times, and control when the candidate can access the assessment.
With built-in safeguards to protect against poor internet performance (or even outages) it's a truly stable, secure and flexible workflow solution without compromise. Multiple delivery channels also make it much easier for students to access test materials for formative assessment, such as past papers and practice exams. This is useful for setting homework assignments and gathering information on which students may need additional help in the classroom.
Are you interested in delivering your tests in new areas? Find out how a Test Centre Network and remote proctoring services could help.

---
Mark
---
Assessments in Surpass can be marked automatically or via the on-screen human marking facility. Our marking capabilities allow you to:
Control workload with automatic marking on a range of question types.
Utilise annotations, symbols, and comment tools for human-marked questions. This is perfect for instances of collaborative script marking.
Assign the marking of scripts on a question level, to ensure unbiased marking throughout a whole test.
Associate mark schemes with items, providing criteria and guidance.
Maintain full control over access to moderation, re-marking, and grading.
Control the release of single or group results using our moderation feature.
Set control questions for automated overseeing of marker performance.
Control grading boundaries after all scores are collated, either on individual tests or full groups, to ensure scores are truly representative of a candidate's ability.
Manually mark and annotate candidate responses as required, tracking all comments and marks for audit purposes.
Working with a range of organisations who rely on various methods to mark their assessments, we have developed a number of options that allow simple collaboration and automation of control questions.  With sophisticated re-marking, moderation and grading facilities, Surpass is perfect for high-stakes summative examinations. Marking in Surpass can either be instant, or enable quicker turnaround times for online human marking with full result release control.
High Volume Item Based Marking (SecureMarker)
SecureMarker delivers the next level in efficient and accurate on-screen marking of large volume, high-stakes examination programmes. Examiners have a clear and intuitive working environment to mark candidate's responses, whilst marking progress can be monitored with ease by managers or chief examiners.
Click here to find out more.
---
Report
---
Accurate and flexible reporting is essential for tracking assessment performance, quality, and meeting regulatory requirements. New data types and reporting methods are continuously being introduced for the benefit of Surpass' global community users. With a choice between extracting raw data, or using the built in visual analysis options, Surpass reporting is useful for occasional users, while providing the depth required by the most demanding of statisticians.
Put simply, Surpass provides you with the tools you need to collect data, measure and compare, and then distribute all in one easy to use interface.
Some of the benefits of these powerful reporting features are:
Gain insight at a glance and prepare instant key metrics for presentation with our easy–to-view graphs, tables, and chart reports.
Access detailed reports on test volumes, test validity, and item performance.
Analyse Discrimination Index, Facility Value, and Standard Deviation for all your tests.
Extract raw test data and transfer to your own analysis systems, such as SPSS and SAS.
Psychometric data analysis tools allow efficient reporting in a clear, understandable format.
Covering everything from test volumes to advanced item analysis and centre performance, Surpass gives you all the information you need to ensure your items and tests are fair, valid, and reliable.
Integrate
One of the biggest benefits to implementing e-assessment is the ability to automate key functions. We recognise that your assessment solution is only one of many tools used by your business, therefore they all need to communicate in a way specific to your business needs. Integration needs to be comprehensive, robust, well documented, and future-proofed for an ever changing landscape. Surpass guarantees this, and secure integration services are available to share data with your organisation's existing systems. Through the Surpass integration you will be able to:
Automate key business functions.
Retain control of your data, sharing only what you need with the technology you employ.
Reduce errors through manual data entry and speed up process times.
Control scheduling, candidate approval, and result release.
Integrate user accounts into a 'single sign-on' solution; authorisation and authentication control of Surpass user accounts is easily managed through your identity provider using standard protocols such as SAML.
Our integration services provide an effective way to streamline processes, maximise efficiency, and reduce administrative workload. We use advanced methods of authentication, encryption, and certification to ensure that your data is transferred securely. Our standards-based, industry-ready APIs allow you to automate how your system interacts with Surpass. They give your internal system the power to create, amend or retrieve candidate records, schedule exams, gather information on specific reports, and extract results data from Surpass.
Scale
With Surpass you have the confidence that your delivery requirements can be accommodated, either now or as you grow. A critical error to make when selecting an assessment platform is to significantly invest your time and business into a system which simply cannot grow with you. This will ultimately impact your assessment delivery, which in turn will impact your reputation. Surpass can comfortably deliver large volumes of concurrent tests, taken across multiple locations, making the solution suitable for organisations of all sizes: from small on-demand Awarding Organisations, to large scale single day National Assessment Programmes. We work with you to ensure that high levels of security, concurrency, and resilience are in place at all times throughout the assessment process.
With Surpass you can:
Scale your whole assessment process.
Upload large volumes of content and candidate records via CSV imports or integration quickly.
Flexibly manage your teams by overseeing access and workflow controls.
Manage large numbers of centres, users, and their associated roles.
Deliver large volumes of concurrent exams across the world.
Maintain a full audit trail on all items and tests for accountability.
Contact
If you have any questions regarding BTL services and assessment tools, you can find contact details and easy-to-use forms on this page:
Surpass is a market-leading professional end-to-end assessment platform used for the authoring, banking, administration, delivery, marking, and reporting of computer and paper-based tests. Surpass is the first choice of organisations that need a dependable solution for large-scale, secure formative and summative testing with the support of an outstanding and experienced customer service team.
Assessments can be created in Surpass using sophisticated and customisable workflows in an intuitive working environment by testing professionals or Subject Matter Experts (SMEs).
Items created in Surpass can be made available via multiple delivery methods, whether at home via Remote Proctoring, within a professional test centre network, or as part of a mass Bring Your Own Device (BYOD) exam session.
Candidate responses can be instantly marked or distributed securely for on-screen marking. All items and tests provide highly detailed data that can be used for quality improvement and psychometric processing.
Each Surpass user has a unique part to play within the Surpass Community, spearheading the evolution of the most innovative professional assessment platform on the market and benefiting from over £7,000,000 of feature development each year.
An Introduction to Surpass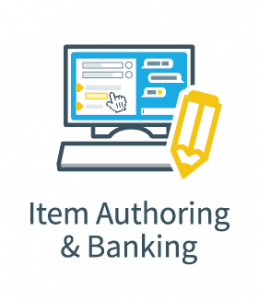 Item authoring has never been easier. Surpass easily streamlines processes regardless of the size and location of the SME team.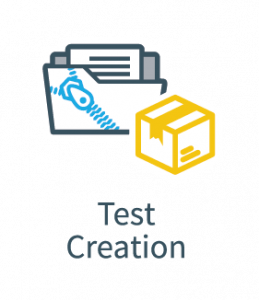 Stay ahead of the competition. Surpass provides an impressive range of cutting edge item authoring options, which are all intuitive to set up and deliver.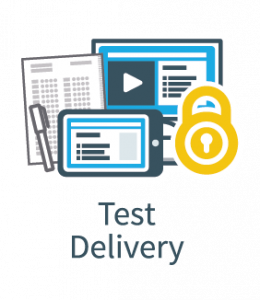 Trusted by the world's most respected and regulated test publishers, Surpass provides the tools to quickly and efficiently build and validate tests ready for delivery across multiple channels.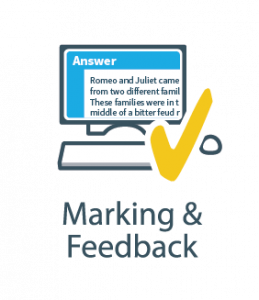 High-stakes exams require robust security and proctoring for validity. Surpass offers a range of secure delivery methods to accommodate different environments and scenarios.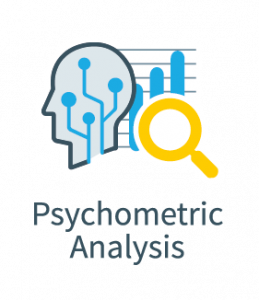 Whether your organization relies on managing human scoring or uses automatic computer grading, Surpass' smart scoring tools allow for a range of options. You can can manage candidates' results in Surpass, including the production of thorough score reports.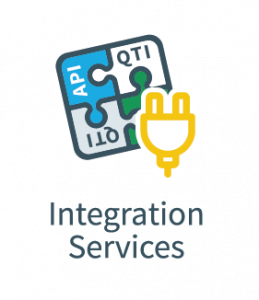 Modern API (Application Program Interface) integration is central to every professional IT solution, Surpass' extensive range of API resources improve data synchronization and significantly reduces the risk of human error.
Benefit from Item Production Improvement
Professional item development doesn't have to be expensive. By reducing costs associated with item production and making items work harder in both summative and formative delivery, you can improve on the return of investment in item development. Surpass comes complete with tools and features to reduce production costs and measure test effectiveness, ensuring the best possible ROI.
Fixed form testing
A traditional approach to test assembly, fixed form testing is ideal for organisations starting out with a small item bank or delivering session-based assessments.
LOFT and adaptive delivery
Surpass supports modern approaches to test delivery, including linear-on-the-fly (LOFT) and adaptive testing. This is perfect for providing performance data for all candidates, not just those in the middle range.
Optimised form generation
The Surpass Linear Optimiser enhances LOFT test form assembly, ensuring all items are used equally and the test structure is balanced.
Data analytics and reporting
Surpass provides a range of psychometric reports and item statistics including Classical Test Theory (CTT) and Item Response Theory (IRT) to help you ensure all tests are reliable, defensible, fair, and cost-effective.