The latest feature-rich Surpass release helps you reach new continents, enhance the control of examinations and ensure candidates have every opportunity they deserve to succeed.
Surpass customers already proudly stand out from the crowd, and with the new features introduced in the latest release, they have the chance to stand taller than they ever have before.
New features like brand customisation, highlighting tools for candidates, timed sections and new delivery language support enable Surpass customers to have greater control over the assessment structure, enhance the candidate experience and take their brand to a whole new learner market.
Brand identity is essential in qualification services. Professional awarding organisations, universities and the government agencies that use Surpass invest a significant amount in ensuring quality of service, and being able to show that quality mark through assessment delivery carries a great weight with candidates and employers.
Most SaaS services prevent the customisation of branding through the very nature of the one-size-fits-all approach, but Surpass has again shown itself to be more than just another SaaS assessment platform.
As ever, this latest release not only strengthens the quality of your brand, but it enhances your assessment design options as well.
On-screen assessment lets you cover new ground and deliver secure tests in ways you could only dream of with paper examinations. Ensuring timed sections are consistently managed for all candidates at all centres would be a logistical nightmare in paper delivery, but our new timed sections functionality lets you make the most of this approach. Now you can structure the assessment session, ensuring candidates can only see what you want them to see and in the order you want them to see it. In addition to this, you can deliver parts of the exam unlocked, meaning you can give candidates the option to use other computer software, perfect for functional skills or combined open and closed book examinations.
Do you want to deliver secure structured assessments?
Click here to tell us why.
Surpass is used in over 100 countries for the delivery of assessments by our partners, and although we already support multiple languages (such as English, Arabic, Dutch and Norwegian), we still receive requests for new languages to be introduced. Therefore, we are pleased to announce support for Spanish and Latin American Spanish, opening a new world of opportunity for partners and customers.
Are you interested in delivering exams to an international audience?
Click here and let us help you find that audience.
Highlighting is an important activity for candidates when taking an assessment. It helps them identify and tag key information as part of their preparation for making a response. This has always been a difficult thing to do in an on-screen assessment, and to be honest can get very messy if they keep drawing on the screen! The new highlighting feature introduced in this release gives candidates the tools they need to efficiently manage the data provided and prepare the right response.
Are you interested in giving candidates the right tools for the assessment?
These are just a few of the key features forming part of our new R12 release. Others include: additional reporting data; the all new SurpassLocal for LAN based testing; enhanced candidate feedback; new finish pages for surveying candidates; and we now have 50 methods for you to integrate and automate with. If you would like more details on any of these new features, then do get in touch.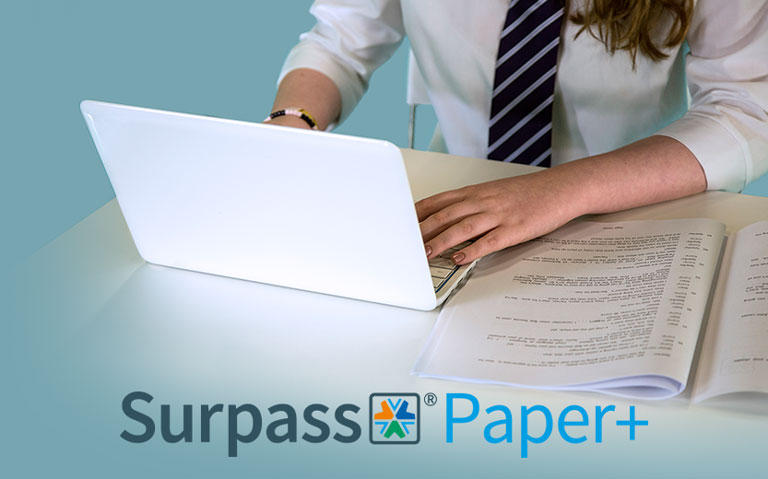 Finally, it hasn't all been about on-screen delivery, as in November we released our new delivery solution for paper examinations called SurpassPaper+. Let's face it, paper is here to stay for some examinations, so BTL has devised SurpassPaper+ to give candidates and centres a choice; answer using a pen, or, even better, a computer. With no change to the existing printing setup it allows an evolution of assessment without a scary revolution.
For more information on these new features and how Surpass can help you enhance your paper and on-screen assessment:
Contact us and let us know your needs.